Take On A Wide Range Of Yoga Classes Today!
Whether you're looking for a relaxing class to reset your mind, an active recovery from a week's worth of workouts, or a sculpting session that will leave your muscles more toned than ever, we've got you covered.
Our Yoga Classes in Venice span a wide range of specialties and offer men and women of all ages and abilities the chance to get more out of their bodies. Learn more about B Fitness and Smoothies today!
Find The Yoga Class That Works Best For You Or Try Them All!
Remember when Yoga meant just one thing? When it was seen as a passive form of exercise. Even just a fun way to stretch?
Well, those days are gone.
At B Fitness and Smoothies, we're taking Yoga to the next level with exciting new classes that help you reach a specific goal and walk away feeling great about yourself. We are proud to offer you access to a world-class Yoga instructor on site and a slate of classes that will help you reach any goal.
Our Yoga Classes in Venice Include:
Gentle Flow Yoga - All fitness levels, and perfect for beginners, as we guide you through easy to follow flows aimed at stretching and strengthening your body. We will focus on core and balance moves. We finish with a stretching sequence on the mat that will restore your mind and relax your body. Appropriate for all levels and ages.
Vinyasa Flow Yoga - Strengthen your body with powerful poses and center your mind in a meditative setting. This class focuses on breath, building heat within the body and self-discovery. We will push you to your edge and leave you feeling empowered and ready for anything. 55 min.
Vinyasa Flow HIIT - Power Vinyasa yoga with a twist! We disrupt the Journey Into Power yoga sequence with high intensity interval training & light-weight, strength-training movements. This high-energy class will build muscle, strength and endurance, while shaking up your workout routine. 55 min.
Buti Yoga - Tribal dance fuses with asana yoga and plyometrics in this cardio-intensive, calorie scorching, body-sculpting class. Buti, in Indian Marathi, means "the cure to something hidden or kept secret." Buti may be a secret here, but it's sweeping the nation with its powerful, body-changing, soul changing movement. 60 min.
NEW Yoga for a Healthy Back - This special stretch and strengthen class is for EVERY BODY, whether you are new to exercise or an experienced athlete. Yoga for a Healthy Back combines breath and movement to create strength and suppleness to the muscles that support the spine and strengthen the core. This class will help create better mobility in tight hips and shoulders. Modifications and adjustments will be given throughout class to get your body in proper alignment. You'll leave class feeling longer and stronger, energized and relaxed, all at the same time! We also offer private Healthy Back classes to work more specifically on your challenges.
Ready to sign up for a class? Click the button below:

Let Our Yoga Classes In Venice Boost Your Body And Soul
There's no better feeling than the calm that comes with Yoga. And at B Fitness and Smoothies, you'll enjoy a system of support and serenity like never before. Our classes are perfect for all experience levels and we are proud to offer modifications for everything we do, helping you ease into the routine and challenge yourself every step of the way.
With our Yoga Classes, you can:
Escape the stresses of your daily life
Relax your mind and clear your thoughts
Stabilize your core and develop lean muscles
Sweat out your body's toxins and walk away feeling recharged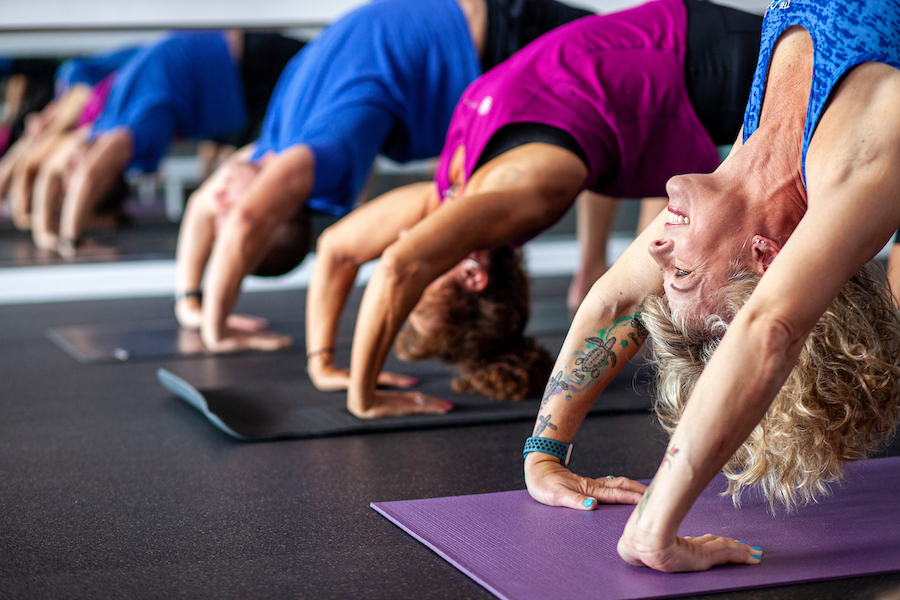 Take The First Step Today! Learn More About Our Yoga Classes In Venice Now!
Our Yoga Classes at B Fitness and Smoothies are the perfect answer for your busy life. Supplement your workouts or let our Yoga Classes in the Venice, North Port and Englewood area serves as the foundation for your fitness journey. Don't forget to refuel your body after your session with a healthy and delicious smoothie!
Just fill out the short form on your screen to get started. We'll be happy to answer all of your questions right away!